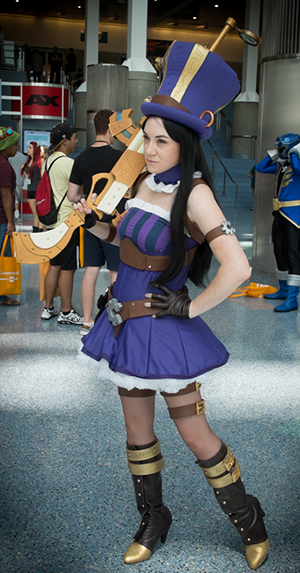 Katie is always happy to share her knowledge with others, and regularly offers panels and workshops at conventions or educational events. In addition to writing and teaching, she has also created mentorship and enrichment programs for teens and young adults in a variety of fields.
Katie worked as Director of Costume and Fashion events for Sacramento Conventions (SacAnime, SAC-CON, and BakAnime) from 2010 to 2015, where she brought the Masquerade up to ICG standards, and created a dozen new interactive events, including the wildly popular Cafe Hoshi.
While she no longer competes in costume contests herself, she is also available as an experienced Craftsmanship Judge.
---
World of Wigcraft – Beginner and Advanced
Katie's most popular workshops offer the unique opportunity to request any technique to be demonstrated and broken down in person. Audience participation is always encouraged, and a foam head will surely be brutalized.
Art for Profit
Learn how to take your hobby and turn it into a successful small business with minimum cost. We discuss packaging, self-marketing, finding the perfect price point, and pitfalls to avoid when doing commissions.
Discovering Your Secret Identity
You may already know that the convention setting has long been regarded as a "safe place" for those who may feel awkward or out of sorts in other social environments, but have you ever wondered why?  This panel discusses group and individual identity, with resources on better understanding ourselves and the people around us.
Making Props and Accessories
Wood, paper, plastic, or foam? Find out how to determine the best material and methods for prop construction, and how to break down your designs to ensure maximum lifespan con after con.
Everybody Cosplay!
Whether you are on your 20th costume, or have never sewn a stitch, this panel is for you. Katie shares the Costuming Triangle of Success, the secret to better looking, less rushed, more durable costumes for beginners and veterans alike!
Katie never charges an appearance fee, but travel and hotel would be appreciated. If you would like to invite Katie to your event, please contact her via her Facebook Page.